It's 2014 and we thought we'd kick it off with a great new way to enhance your photos!

We call it Background Style.  Inspired by some amazing photos found on Etsy and other popular online stores, we wanted to make having clean backgrounds with natural soft gradients easy.  Starting now, your backgrounds can be white, grey, flat, a natural soft gradient, or anywhere in between!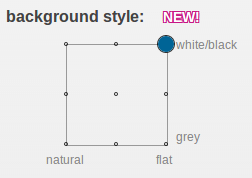 By default, Background Style is set to the usual flat white/black background.  You can change the style by moving the solid blue circle anywhere.
Let's take a look at what happens when you move the circle around:

As you can see, when the blue disc is set toward the top, your background becomes lighter and whiter.  If you place the disc toward the bottom, the background becomes grayer.  Likewise, towards the right side the background becomes a flat solid color.  The left side has a nice smooth background made from the natural shading found in the original photo.

This versatile background option gives you an great amount of control to pick a background that best complements your item and let your photos stand out from the crowd!

And thank you, Chris Scott, for letting us use your photos from your amazing shop EuropeanRetro!

]]>